Yuching and I recently traveled to Taiwan. It was a chance to visit Yuching's Mom and family and one of her cousins was getting married, so that was a great excuse for the trip as well. So in addition to getting to ride a scooter, eat some pretty good food, and hang out with Yuching's many awesome cousins, we got to shoot MengLiang's wedding to the lovely and wonderful Mandy.
This was a pretty traditional Chinese ceremony. I have done my share of Chinese weddings in the United States so I'm familiar with the tea ceremony, the bride having multiple dress changes, etc., but the weddings here have always had a more traditional Western ceremony. This wedding was unlike any I have done before. In a way, I enjoy something different: it's a nice change of pace from most weddings that I do. In another way, it was a bit terrifying: I understand about 2 words of Chinese, which meant that I had little idea of what to expect next or where best to capture the action. It was very hard to follow what was happening at the moment much less predict what was going to happen next. Fortunately my lovely wife was by my side to help me every step of the way.
The "ceremony" isn't really a ceremony. It's more a series of events. There is no one moment where the couple becomes "man and wife" as we experience it in the Western world. I'll walk you through it as best I understood it:
The wedding starts at the groom's parents' house. This is where the couple will spend their first night together. One tradition is to have a young boy roll around in the couple's bed to make it more likely that the couple will have a child soon (and preferably a male child). (I didn't see this happen, so not sure if it was part of this wedding.)
The wedding started very early on a Sunday morning. Everything about a Chinese ceremony is about "luck". So the date and timing of the wedding events were very important. First step, the groom has to go get his bride. Here he is ready to go pick up his bride.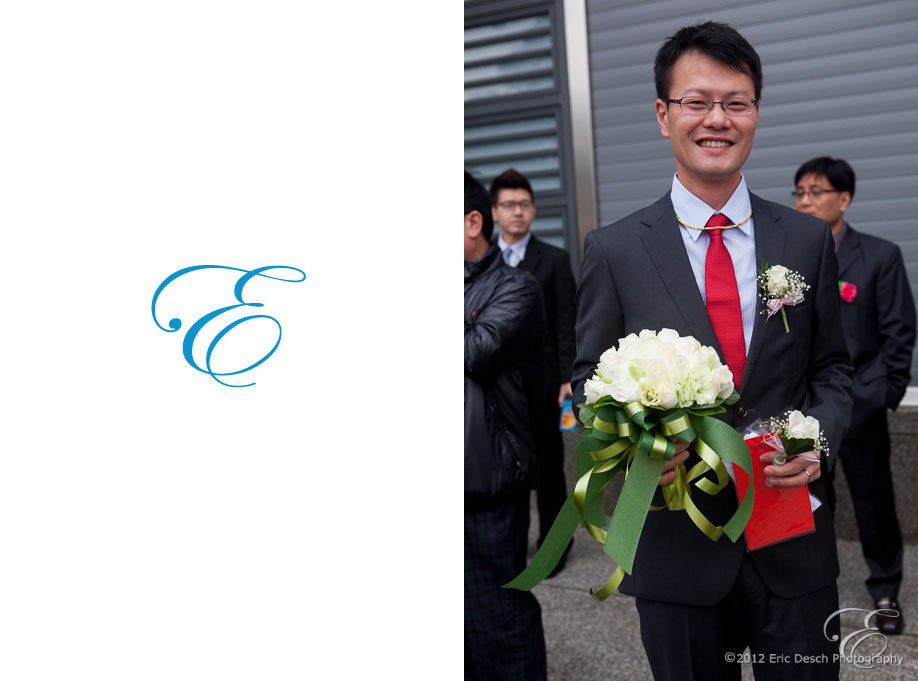 The groom and groomsmen leave from the groom's parents' house to go get the bride. They take a caravan of cars; the number of cars needs to be divisible by 6 (6, 12, 18…) to be lucky.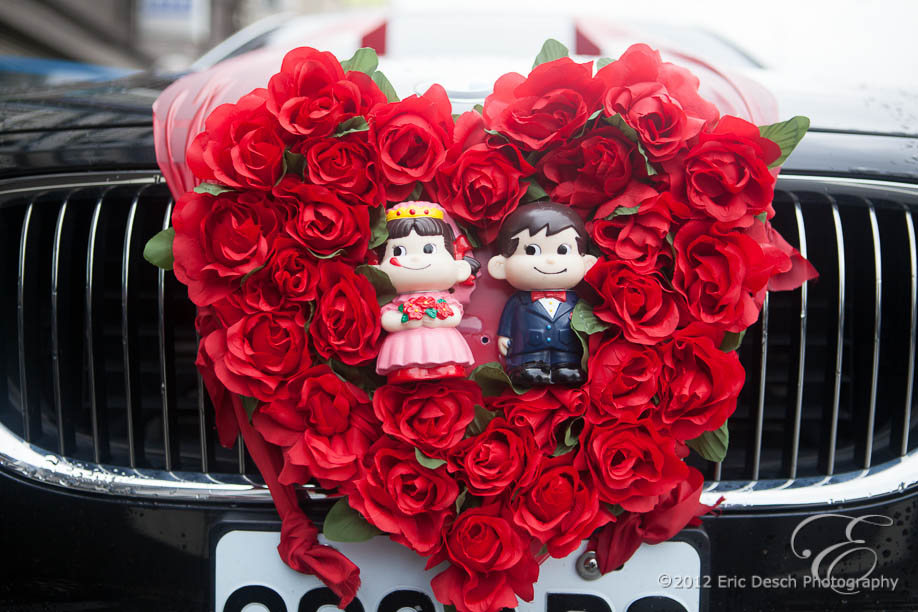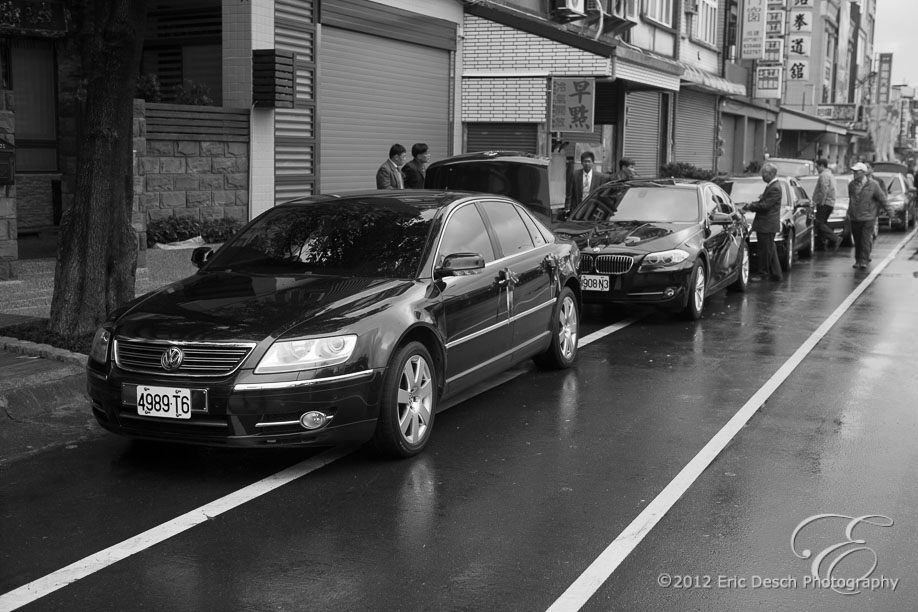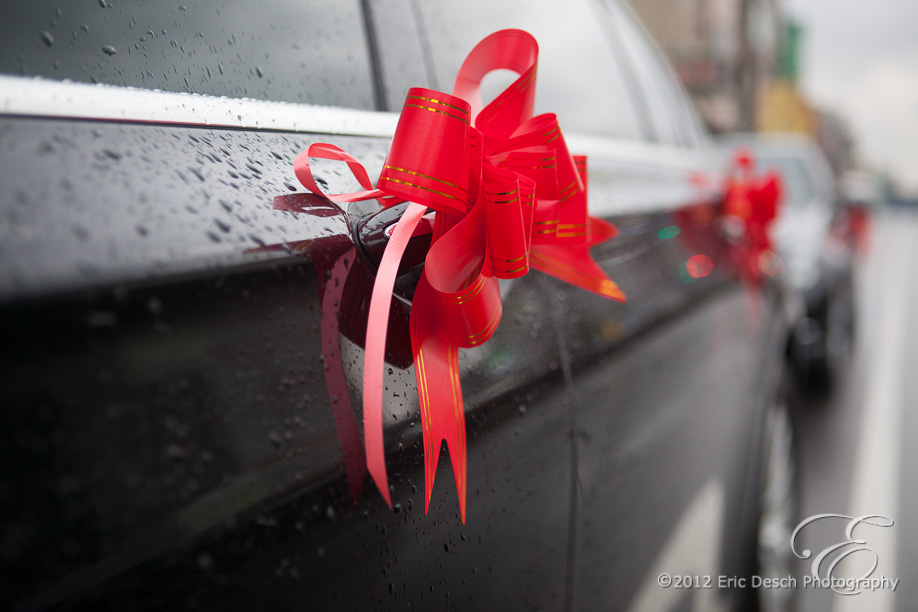 Firecrackers are lit to send the caravan on its way. They are very LOUD! If you are shooting a Chinese wedding, pay attention to those around you and stay at least as far back as the nearest person who knows what's going to happen. I didn't and almost lost my hearing and got hit with a piece of shrapnel 😛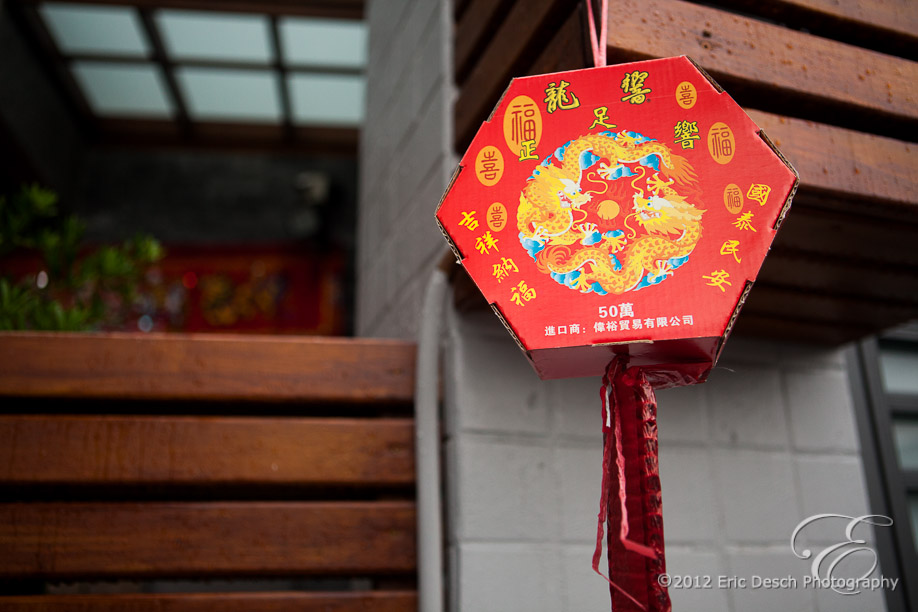 A boy greets the groom at the bride's parents' house.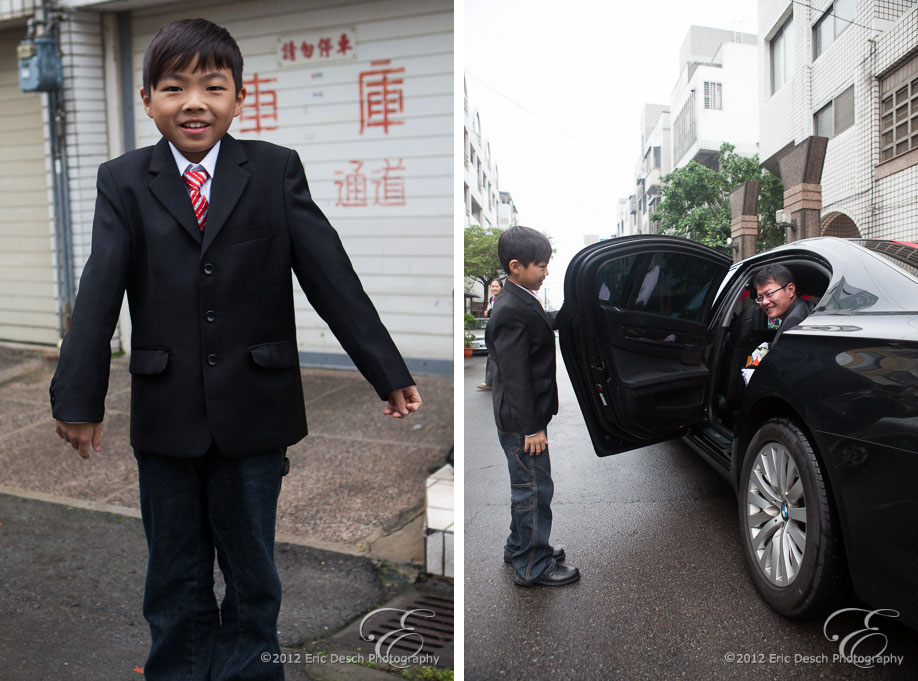 The Chinese symbol for "double happiness" is everywhere. The groom is ready for his bride…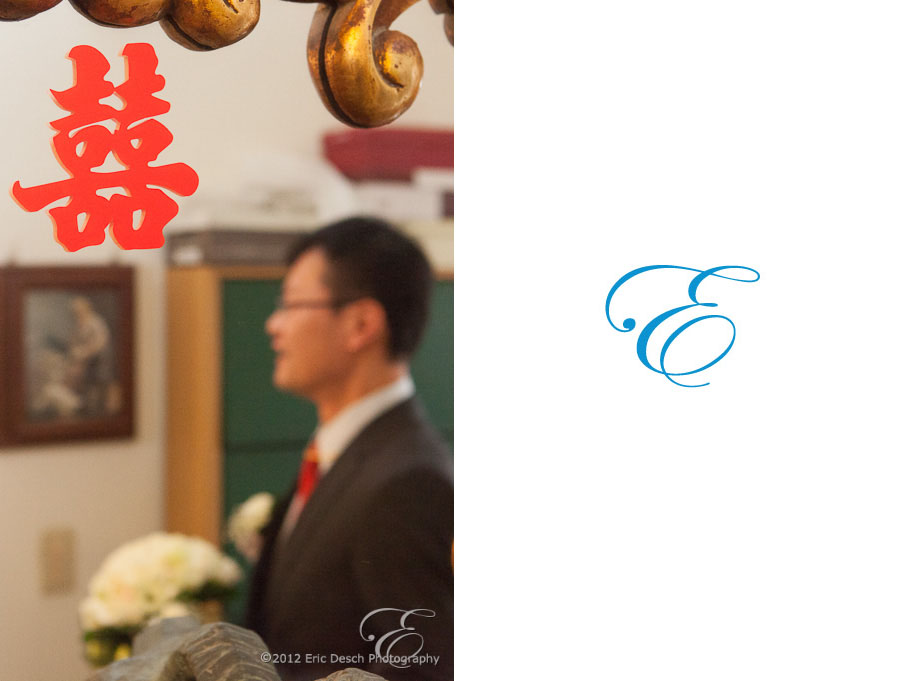 …but first he has to get past these people. Each gives him a task that he must complete. The groomsmen are allowed to help (kinda like "phone a friend" ;)) Tasks include things like calling "I love you!" to Mandy in 5 different languages…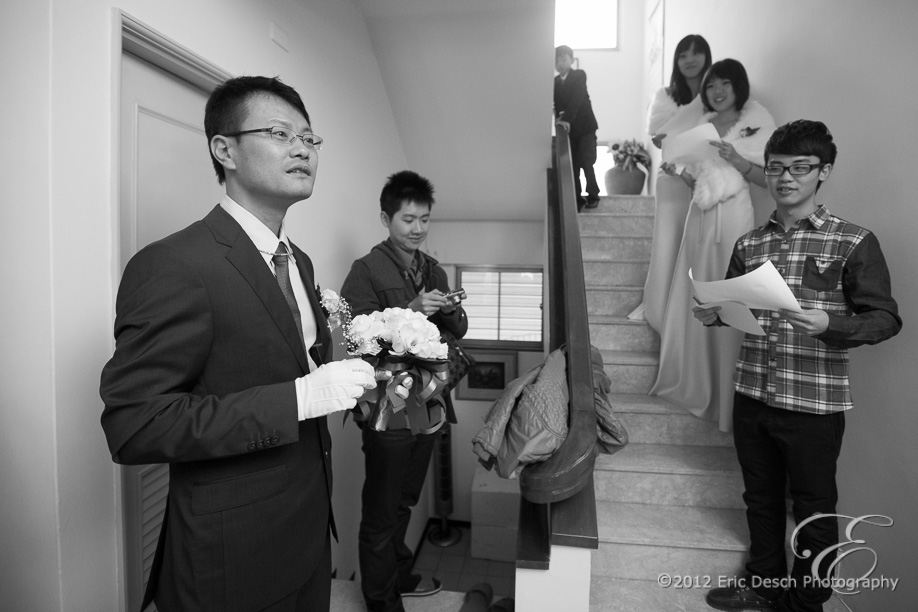 dancing Gangnam style…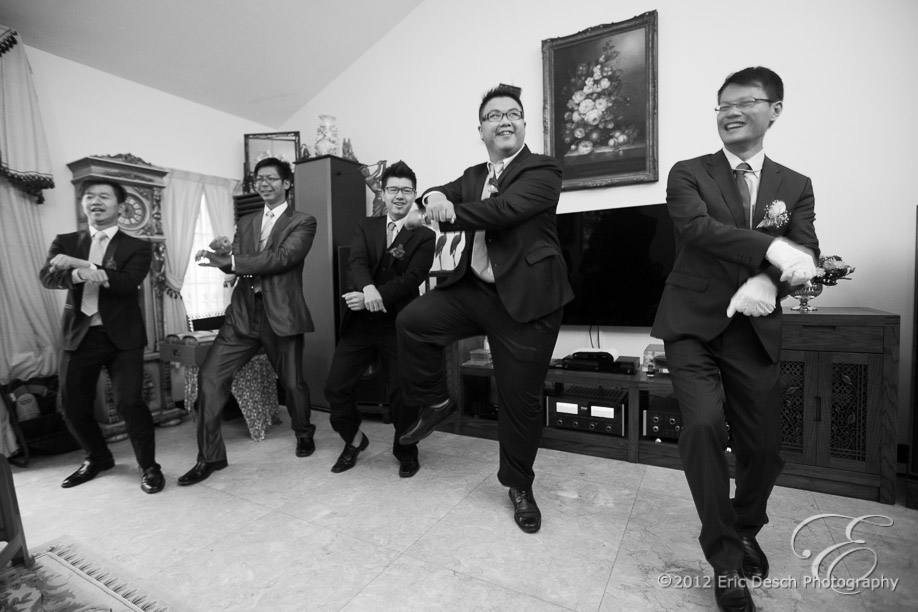 and doing push-ups while singing "I Will Always Love You".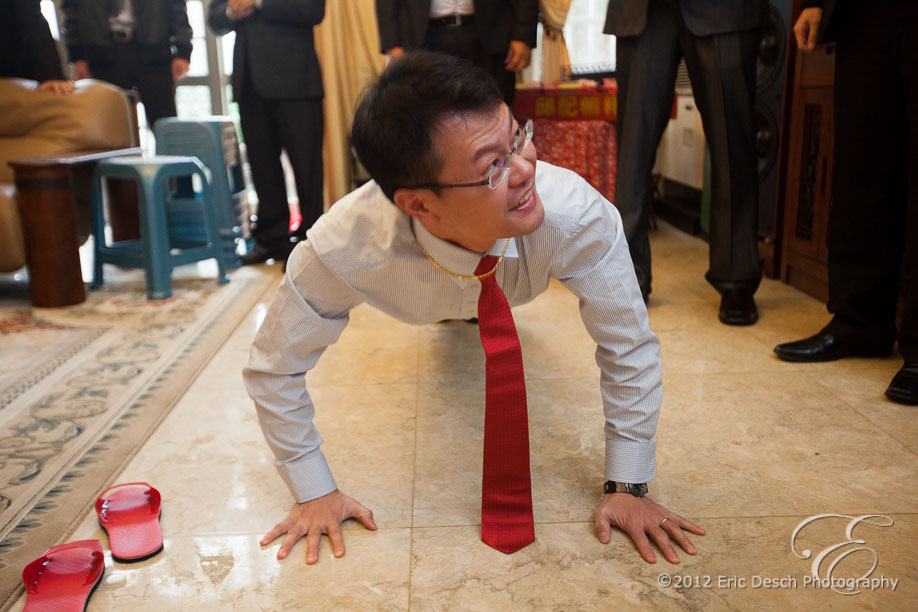 At last MengLiang completes his challenges and is allowed to see the bride.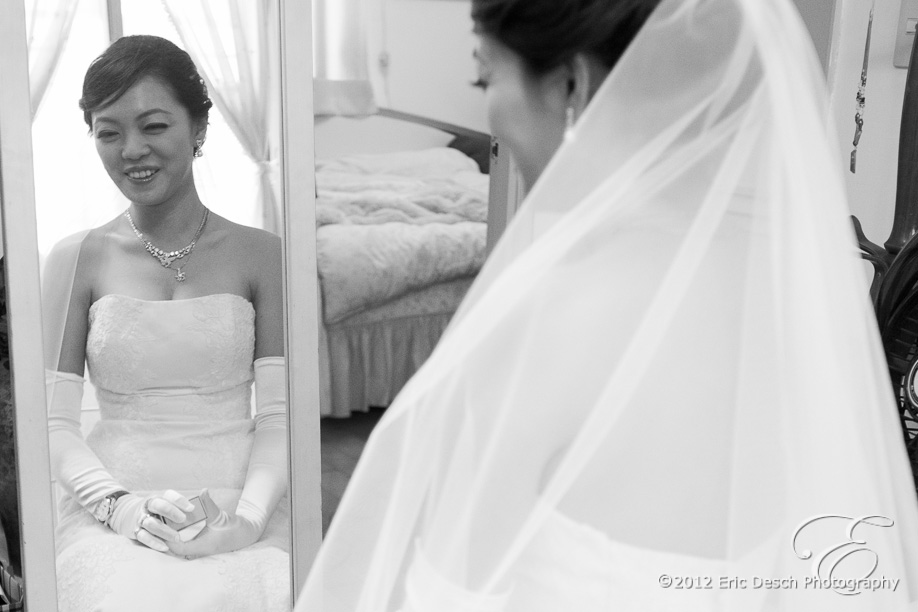 Now MengLiang thanks the bride's parents for raising such a wonderful daughter. They are off to start their new lives together. The bride's father gives them a red envelop to wish them good luck in their life together. (There are a LOT of red envelopes handed out on wedding days.)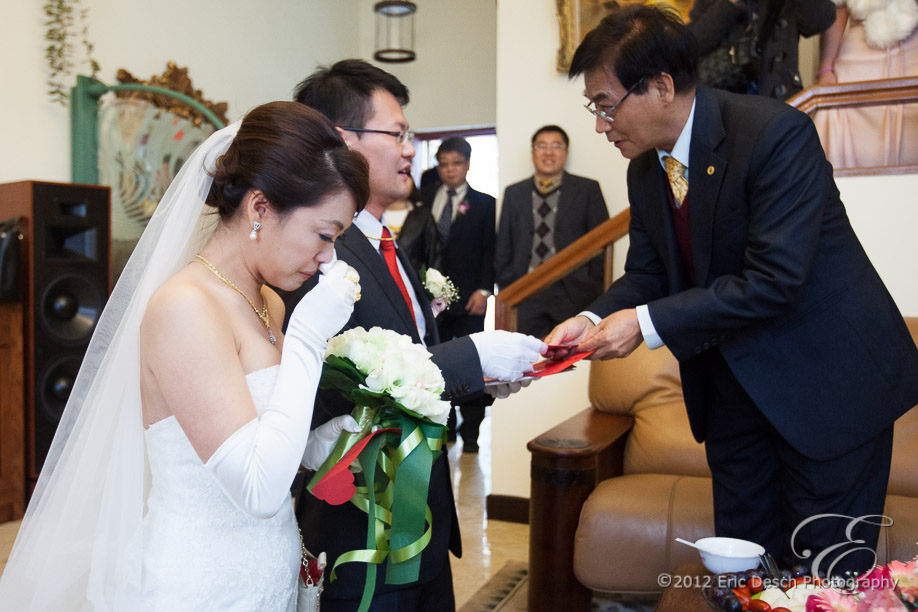 When they depart, the bride drops a fan from the car window as a symbol of leaving her bad habits behind. Then more firecrackers. Did I mention that they are very loud and dangerous? Here the same boy that greeted the groom holds the fan as firecracker smoke envelopes him.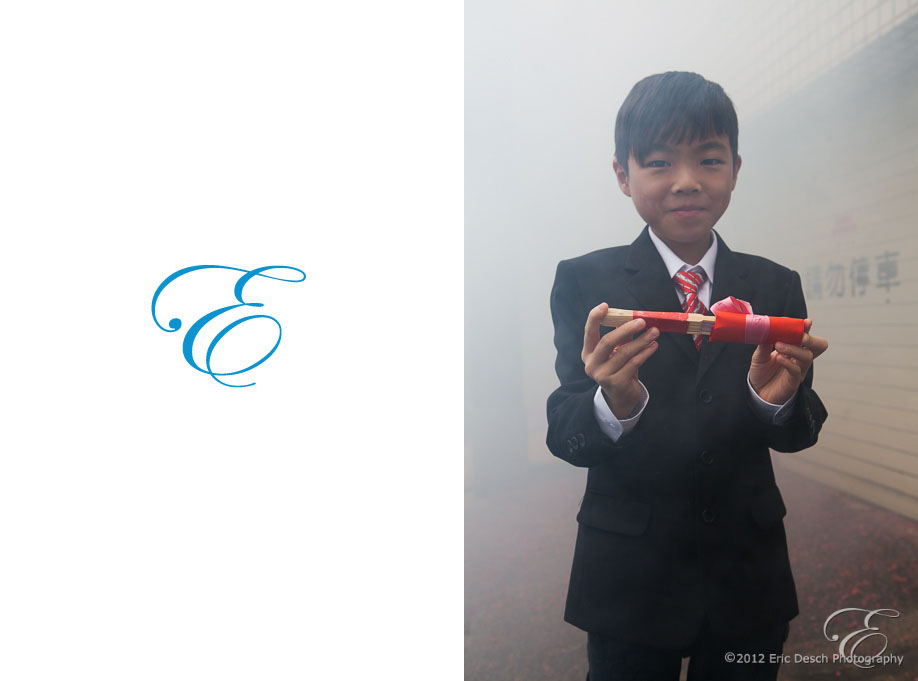 Back to the groom's parents' house where they are greeted by a plate with an orange and apple to welcome Mandy to the family.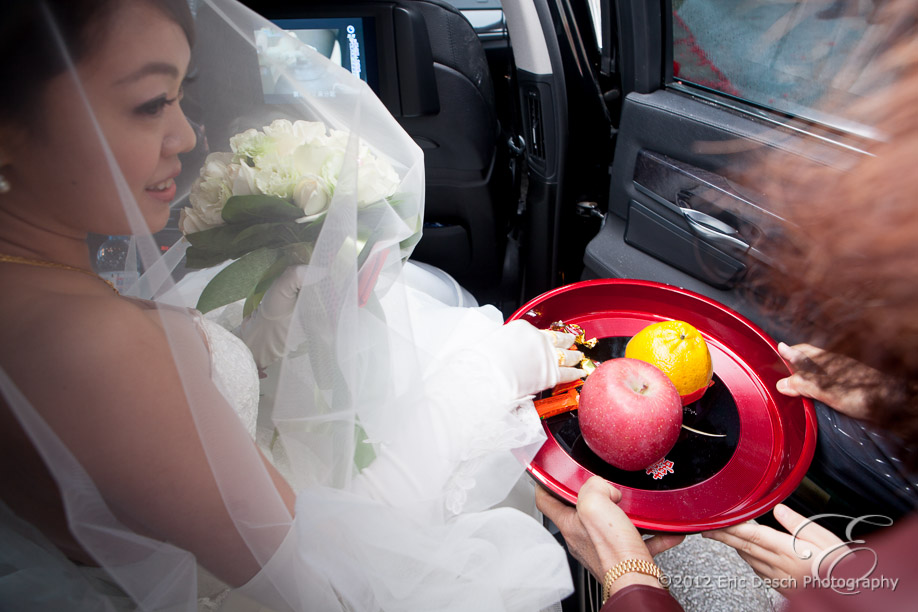 The luckiest woman of the family (not sure how she gets that title? Very good record with scratchers?) shields the couple with an umbrella to protect them from bad luck. As they enter the house, they step over some fire on a roof tile. Not sure why, but I'm sure it is for more good luck ;).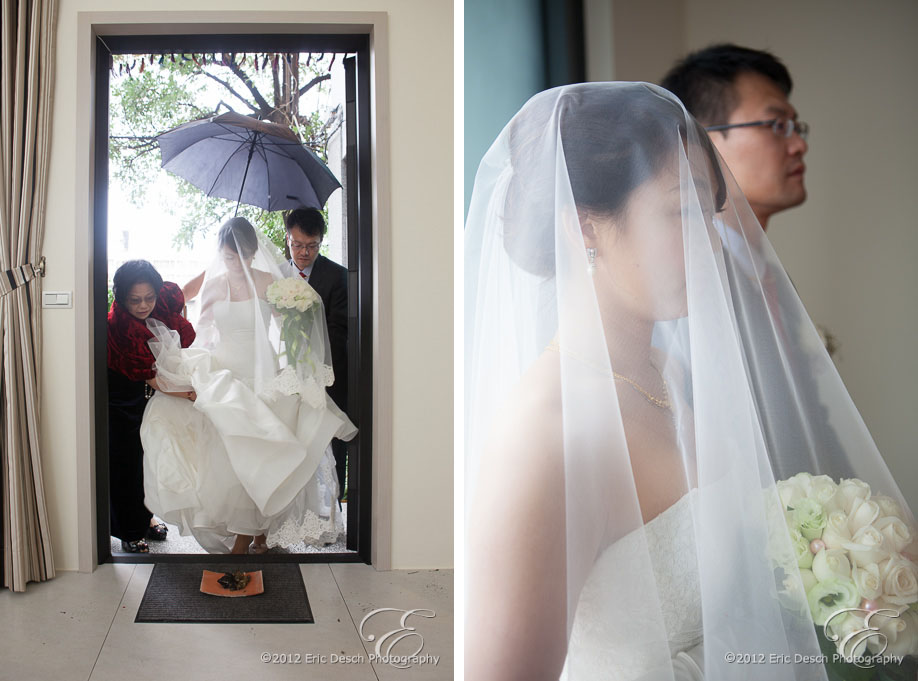 Now the couple goes to an alter to pay tribute to their ancestors. Uncles light incense for this part of the ceremony.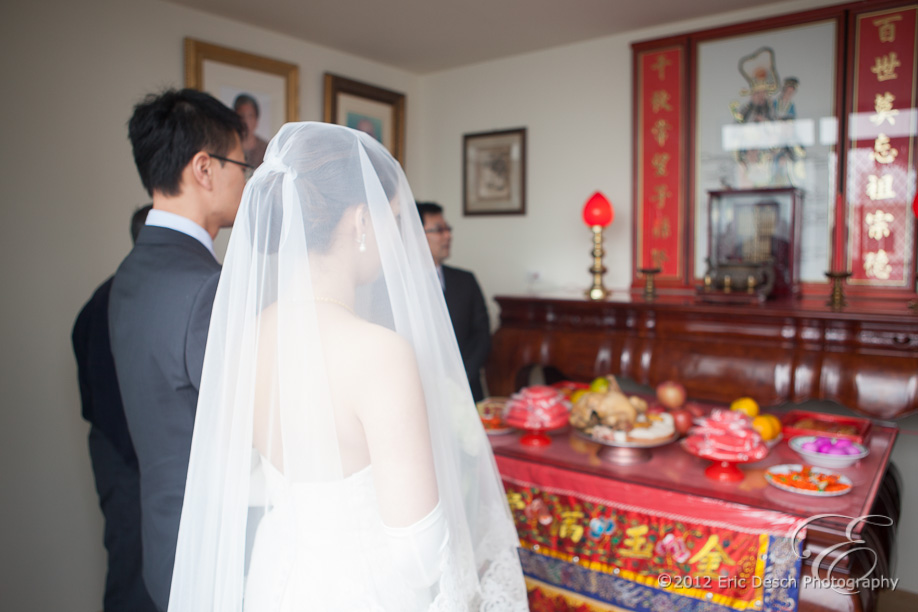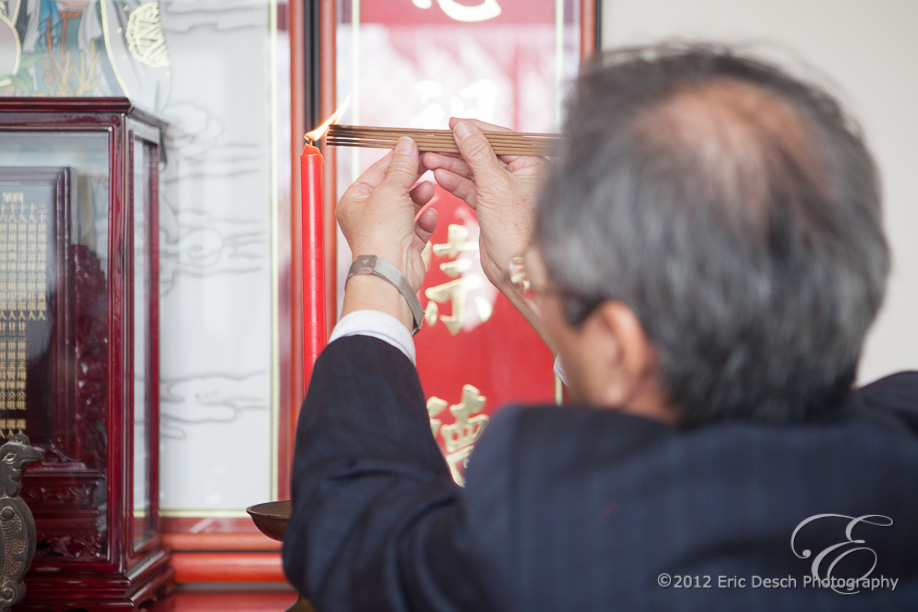 Now we see the beautiful bride as the groom lifts her veil.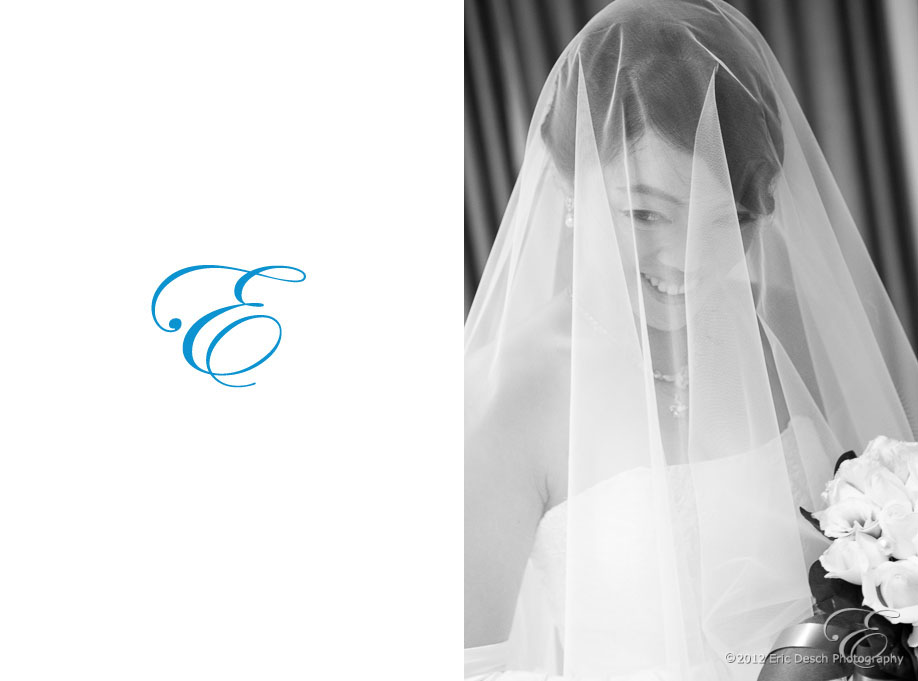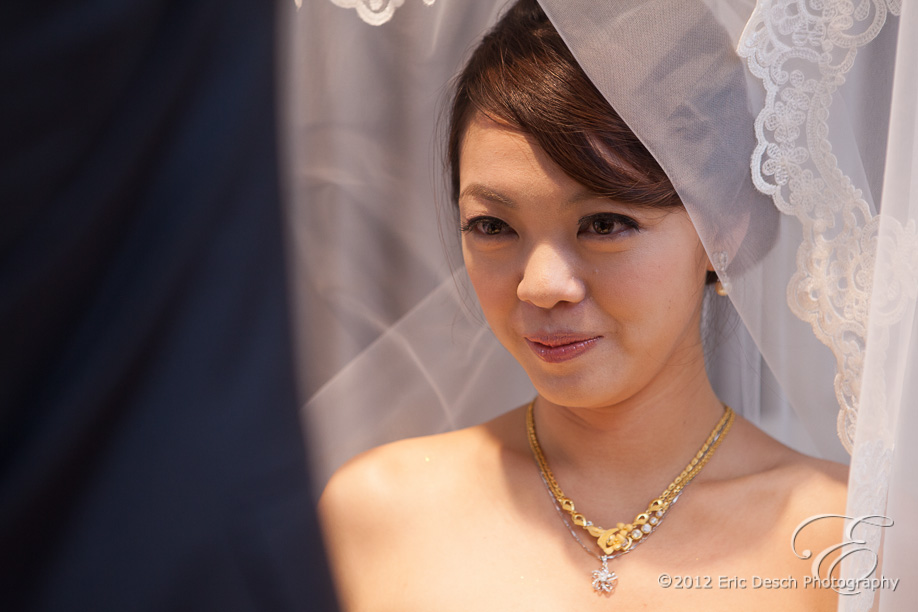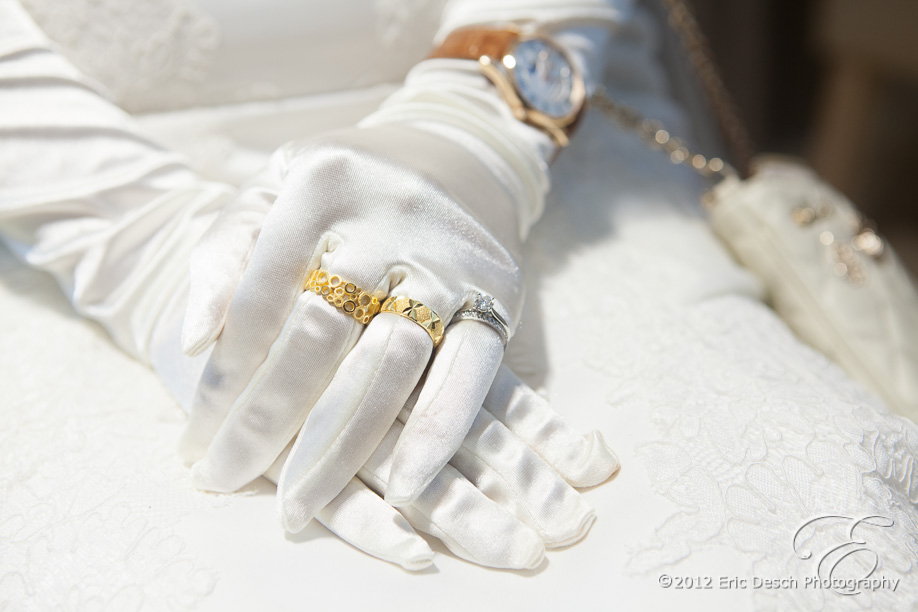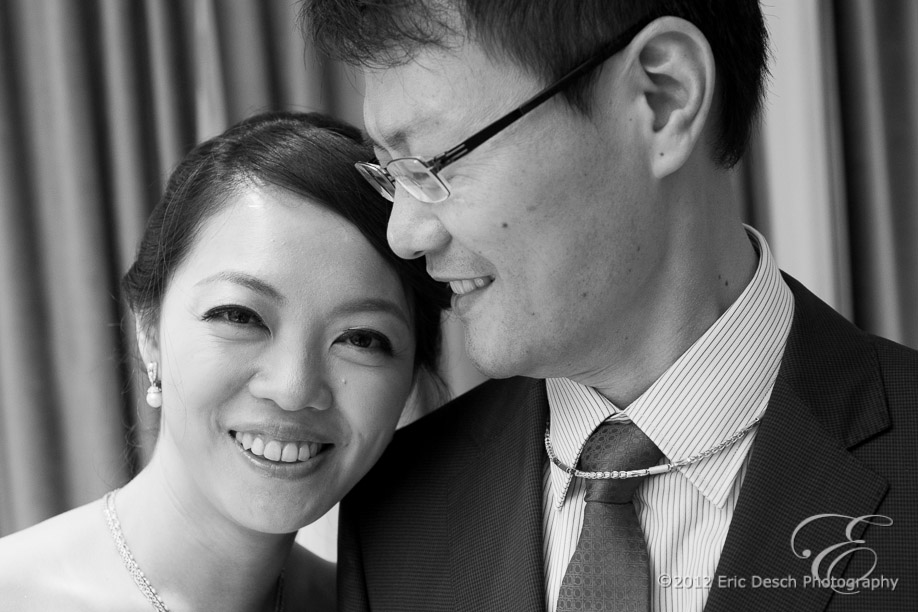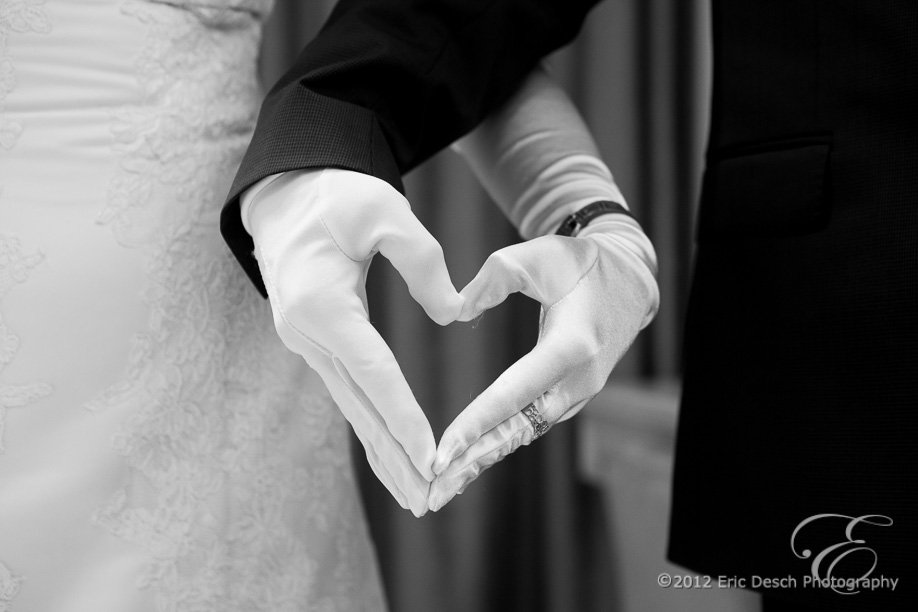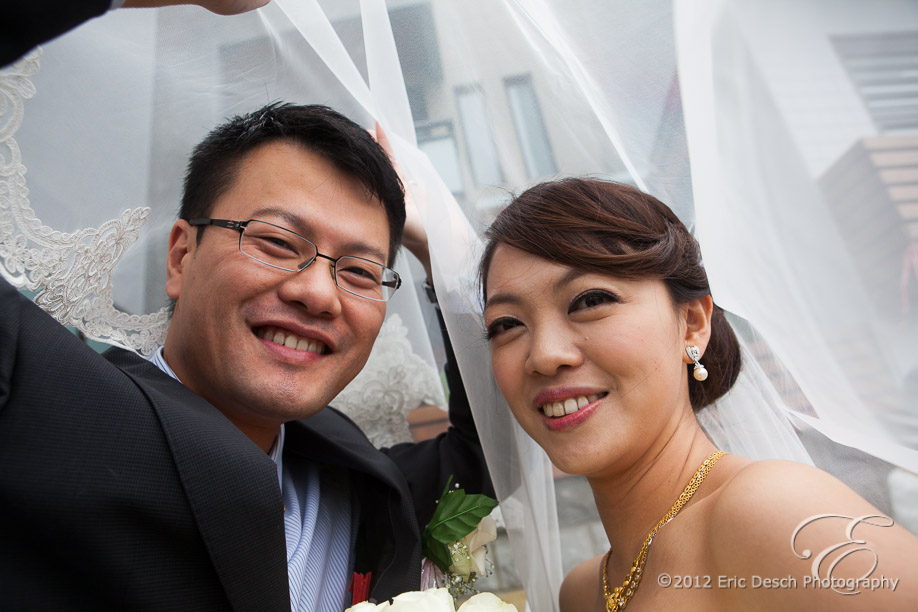 Now it's off to the banquet!
Yuching holding the Chinese symbol for "double happiness".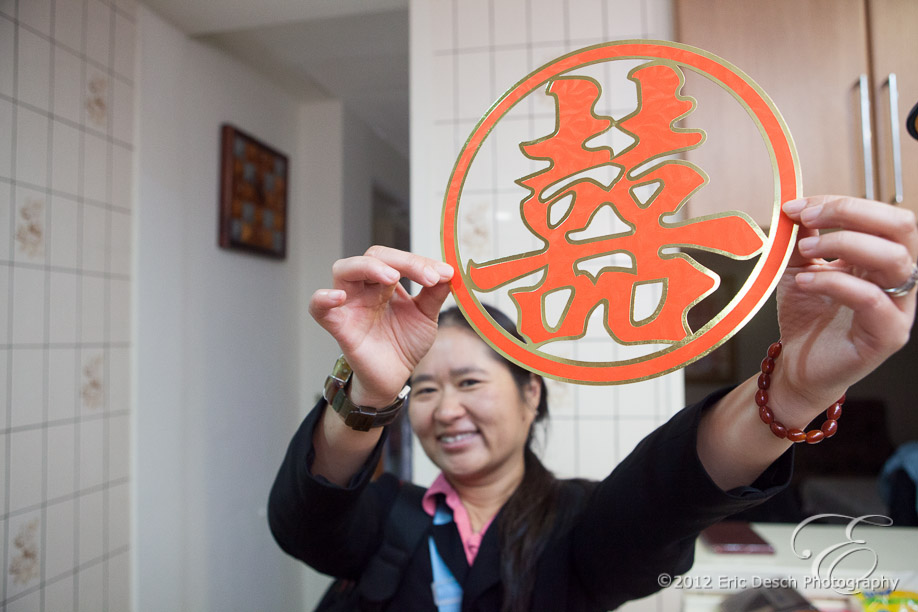 Not a small banquet. About 800 guests in all!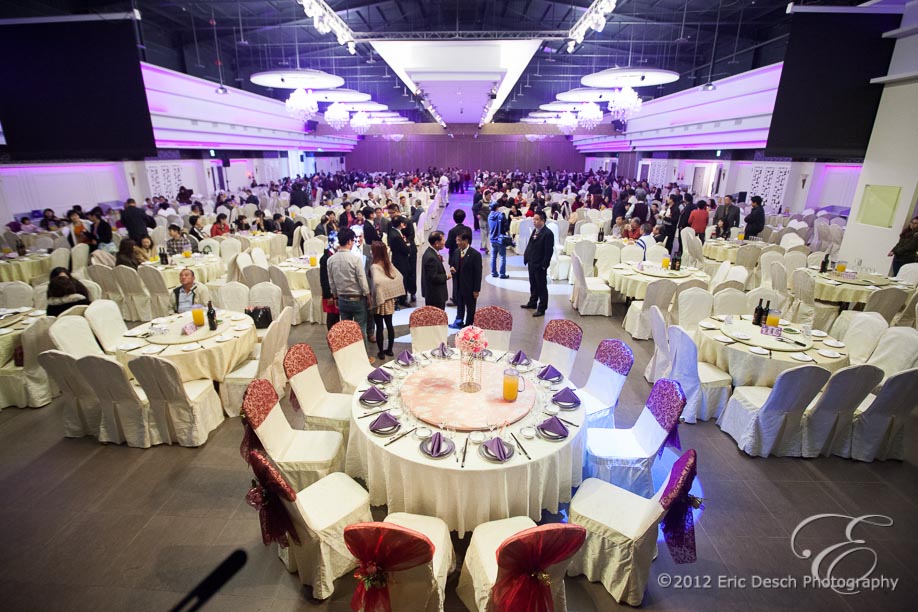 Yuching's Mom and the "flower girl" Chloe:

Me taking Gallon's picture taking Yuching's picture taking a picture of the food. The banquet consisted of 10 courses! No one left hungry ;).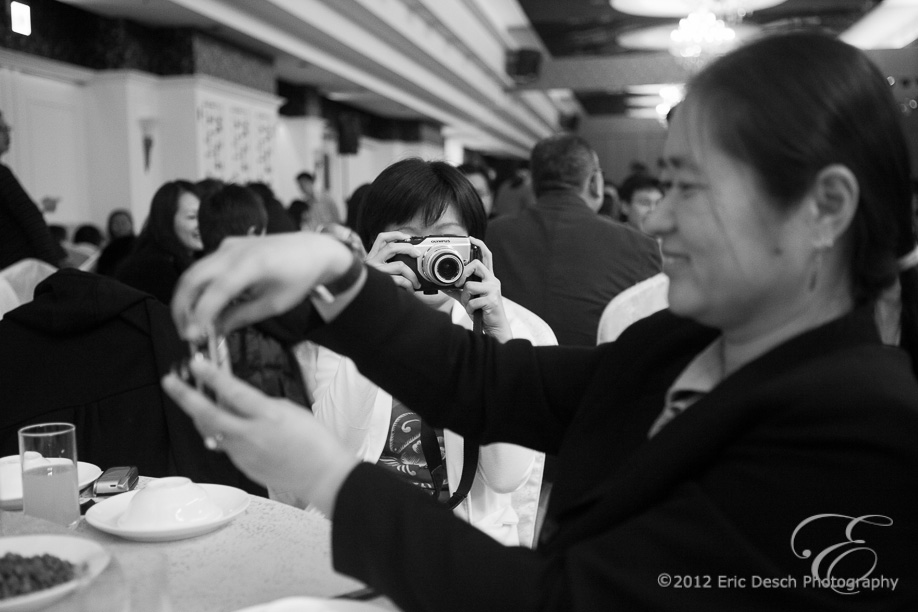 The wedding party gets introduced. Here come the "ring bearer" and "flower girl".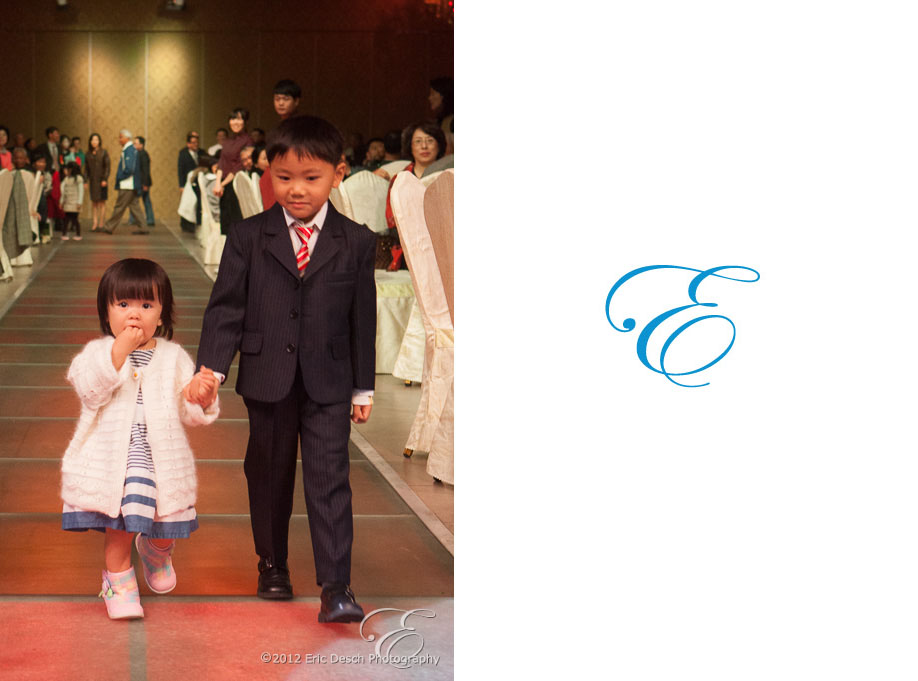 And now the couple led by a saxophone player…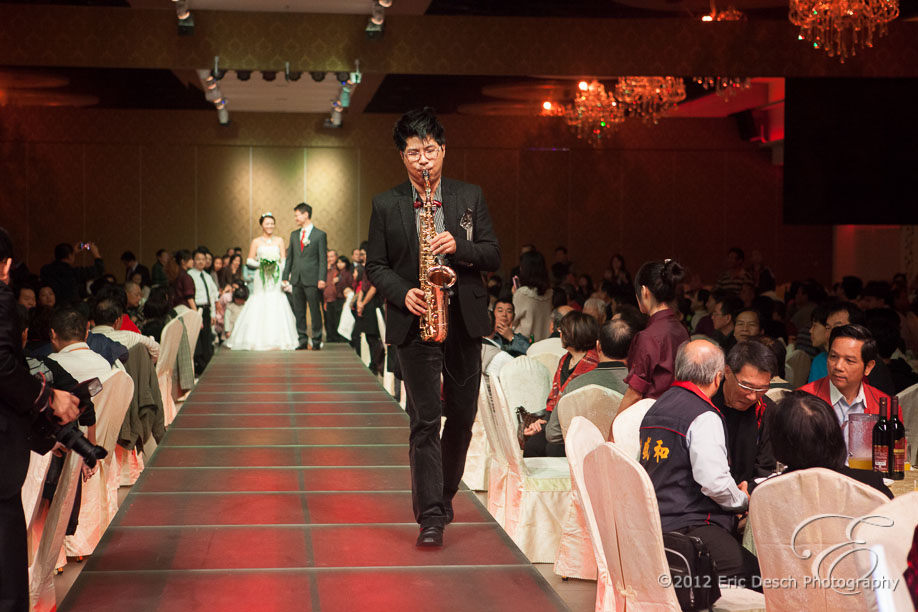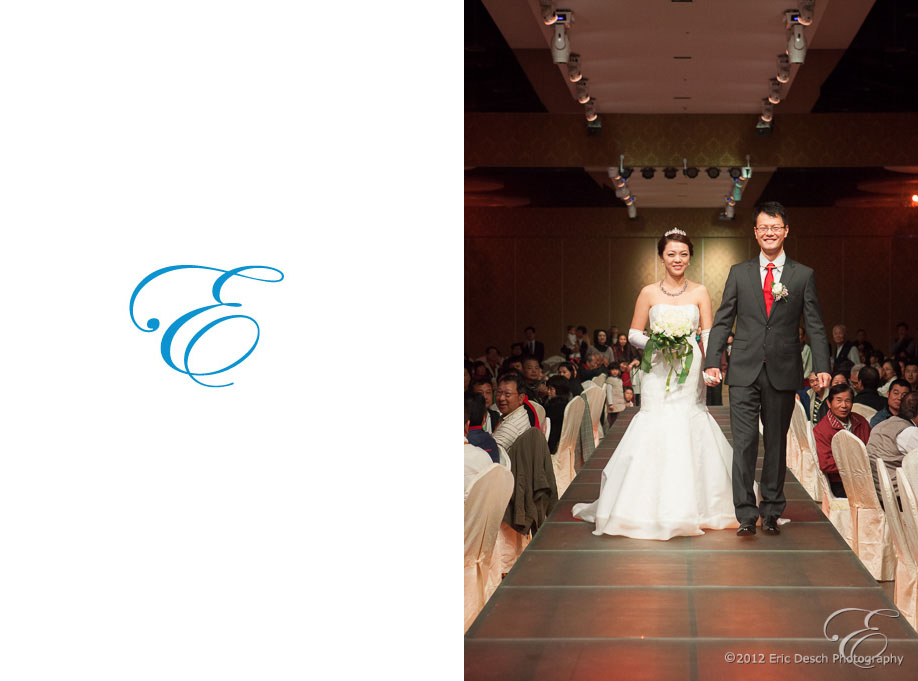 The couple and their parents toast the guests. I'm told that the gentleman on the right is the person who introduced the couple.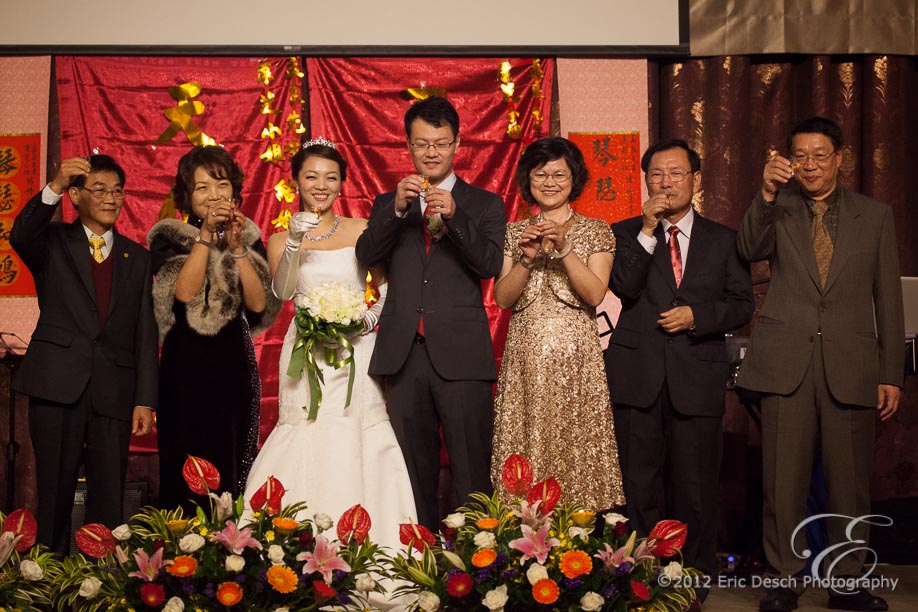 Entrance for the second dress.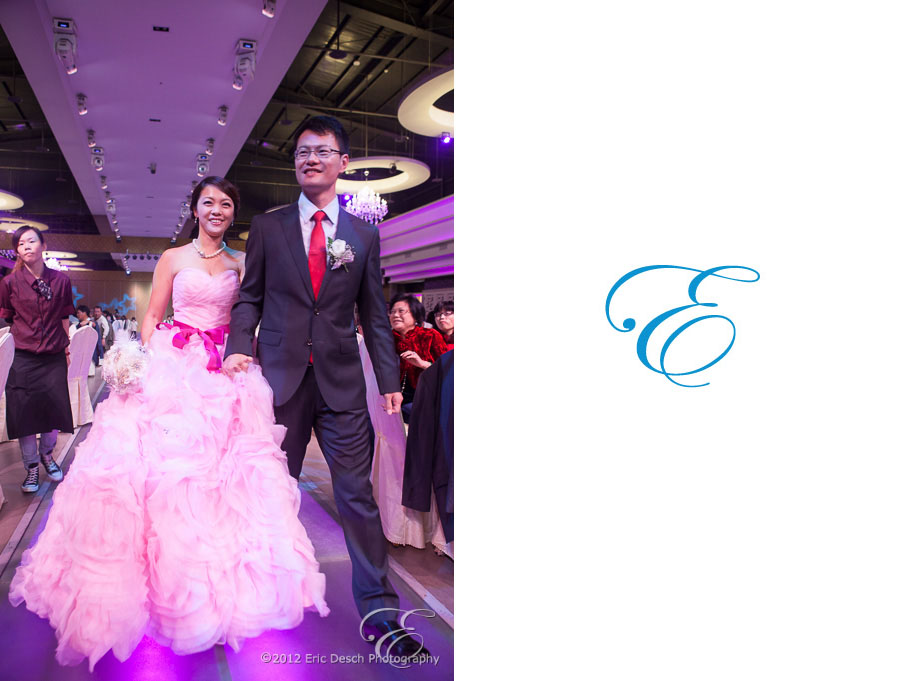 More "Gangnam Style".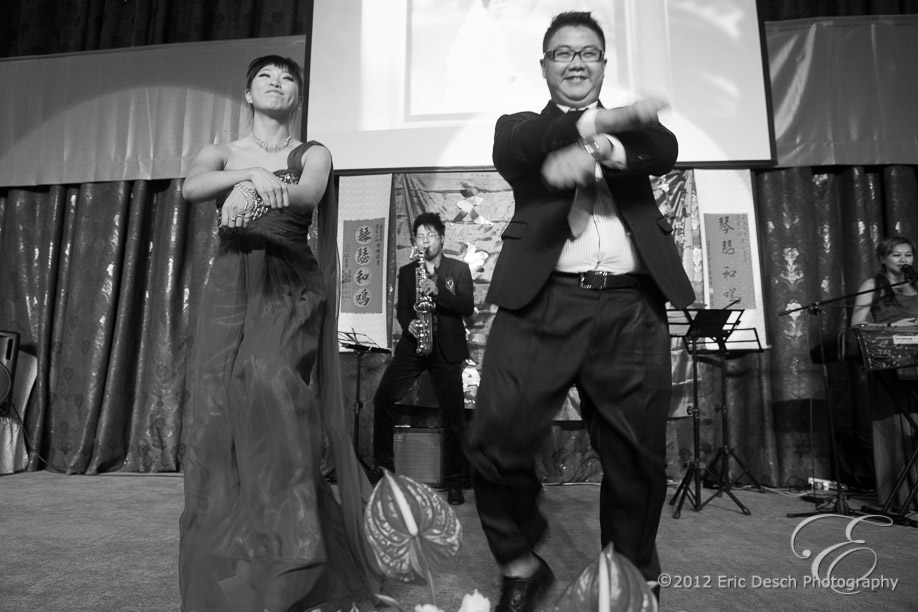 As the guests depart, the couple hands candy out to everyone. Here we see Mandy's third dress of the day.