I was at the grocery section in the beer aisle yesterday. I noticed 3 taped up cases on the floor with a sign on them saying "Mystery Beer" for sale cheap ($15 for the case). The sign also said you have to buy the case sealed, they won't sell it if you open it to look inside. Also said something along the lines of "guaranteed to have tasty goodies inside".
Would you do it?
I looked inside the hand hold hole of one of the boxes and saw a mix of cans and bottles. I couldn't make out the brands too well, but they were dusty and one can looked like O'Doules. (That does not qualify as a tasty treat in my book.) I passed yesterday, but I was drawn back. I went back today and bought a case because that's just the wacky kind of guy I am 😉
What did I get?
I'll take you through the 3 stages of Mystery Beer purchasing:
Stage 1: Curiosity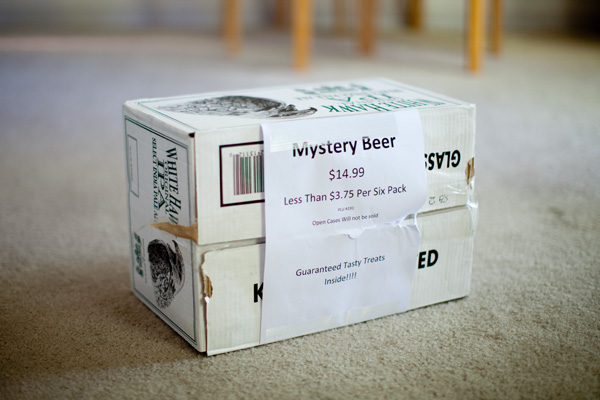 No hole for hand holds on this one, so I have no idea what's inside. So what is inside? Let's find out!
Stage 2: Optimism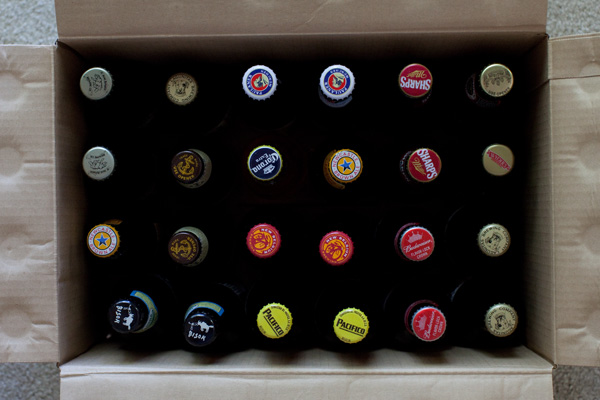 From the top, the caps look promising: New Belgium (FatTire!), Lagunitas Brewing Co (IPA!), Bear Republic (Racer 5!), Anchor (Anchor Steam!), red Tail Ale( Red Ale Ale!). And some clunkers (Bud, Sharps, etc.), but mostly looks promising!
Stage 3: Acceptance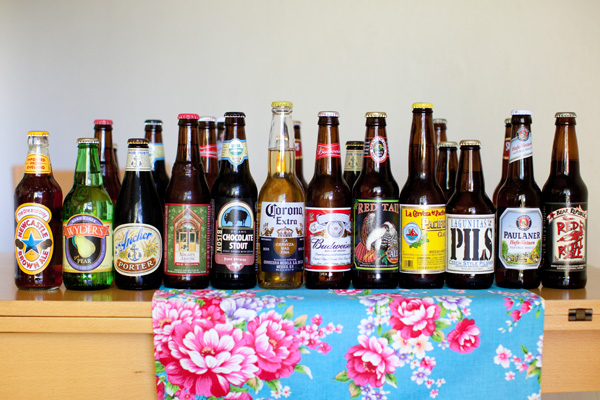 Decent selection, but most the breweries that excited me turned out to be kind of let downs: New Belgium (Mighty Arrow?), Lagunitas Brewing Co (Pils), Bear Republic (Red Rocket), Anchor (Porter). Decent, but not what I was hoping for based on the tops. Best surprise: Bison Chocolate Stout.
All beers are shown (except the Sharps, oops) and the duplicates are in the back (2 of each in most cases). All in all a fun experiment and worth the money.